News Release
News Release
Altek & Qualcomm| Smart Factory & 5G mmWave|360° AI Camera
2020-12-16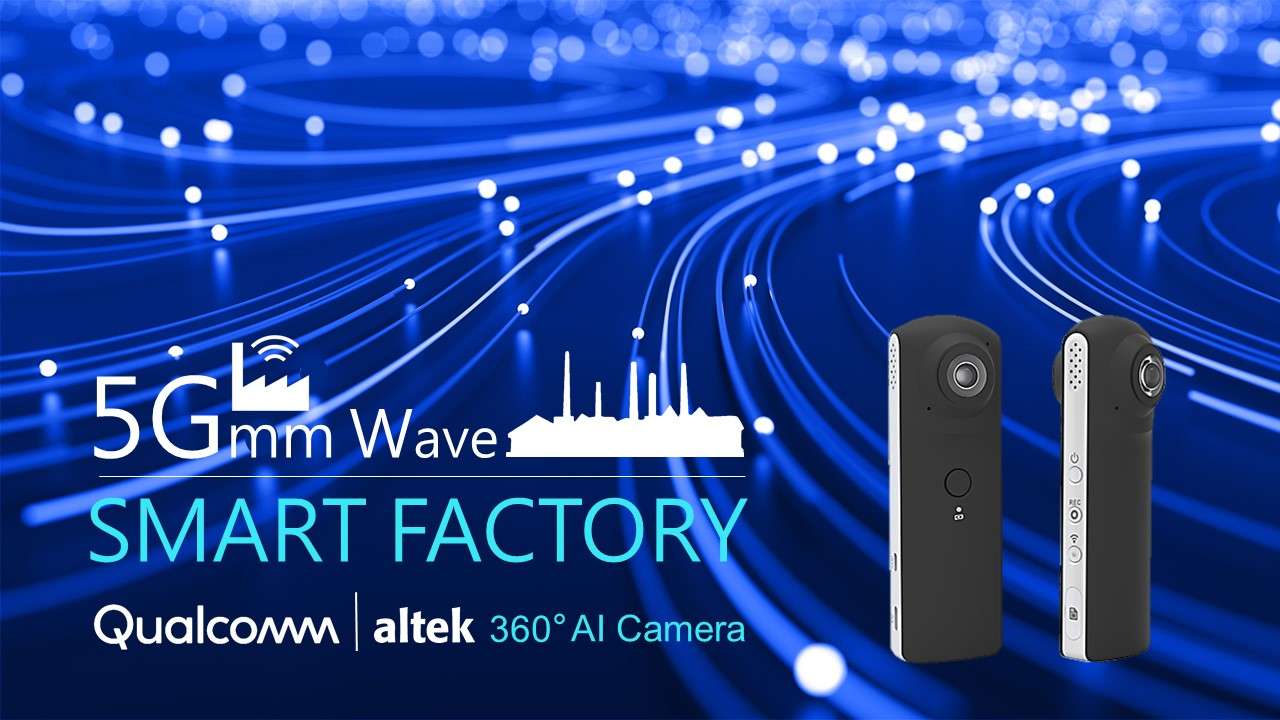 Altek & Qualcomm| Smart Factory & 5G mmWave|360° AI Camera
In the 5G era, Altek (Altek / 3059.TW) cooperated with Qualcomm Technologies, Inc. to introduce one of the most important solution of the smart factory "AI+AGV ( Automatic Guided Vehicle) Automatic inspection" into ASE Kaohsiung K23 factory built the first 5G mmWave enterprise network smart factory in Taiwan!
This 5G mmWave smart factory built by Qualcomm Technology, equipped with Qualcomm's QSM5165 SoC system-on-chip "360° AI Camera" is installed in an intelligent automated guided vehicle (AGV), Altek is Qualcomm's important partner in the 5G ecosystem who is leading the world Wireless technology innovator, providing high-quality 4K visual image processing capabilities equipped with powerful AI artificial intelligence, using human and object detection and electronic fence systems to perform 360-degree accuracy in the factory Real-time security detection and realization of smart industrial-grade AI smart visual imaging solutions will help accelerate the formation of 5G smart factories in the global manufacturing industry chain.
"Altek has always had a close partnership with Qualcomm to ensure that Altek's AI visual imaging solutions can meet the 5G generation AIoT devices and support Qualcomm's chips and platforms. And the rigorous requirements of visual imaging hardware solutions, allowing the seamless integration of related technology vertical applications in the 5G wireless environment and faster industrial upgrading to meet the needs of global customers for AI visual imaging." said Alex Hsia, Founder & CEO, Altek.
5G mmWave is the foundation for achieving the Industrial Internet of Things (IoT). The three characteristics of 5G mmWave : "high speed", "low latency", and "large bandwidth" will enable global industries to transform into smart factories and increase flexibility Important efficiencies such as manufacturing, predictive maintenance and higher production efficiency are realized. In order to expand the competitive advantage in the 5G , Altek participated in the Qualcomm 5G Platform Solutions Ecosystem and adopted the QSM5165 SoC developed by Qualcomm for 5G mmWave Smart Factory to provide leading AI Smart visual imaging solutions.
Features of Altek 360° AI Camera:
■ 365 days & 24 hours real- time factory monitoring
■ 360-degree high-resolution panoramic images with no dead ends
■ Accurate & real-time AI detection results
■ AI camera is easy and fast to install and fit in the AGV
■ 5G mmWave & WiFi 6 high-speed/low-latency/multi-link wireless network data transmission
About Altek
Established in 1996, Altek has engaged in imaging field for more than 25 years, Core technology of Altek is vision technology, in house vision chip and algorithm which can be integrated completely to provide one stop Vision AI solution from hardware manufacturing. Our fields of application span to IoT, smart automotive, medical imaging, 3D sensing and AI chips technology. For more information, please visit :
http://www.altek.com.tw/en-global/home
Media Relations Contact
:
Nicole Chen +886-2-87516620