News Release
News Release
Altek & Qualcomm| 4K smart visual solutions for AIoT | IPC610 Open Development Kit
2020-07-08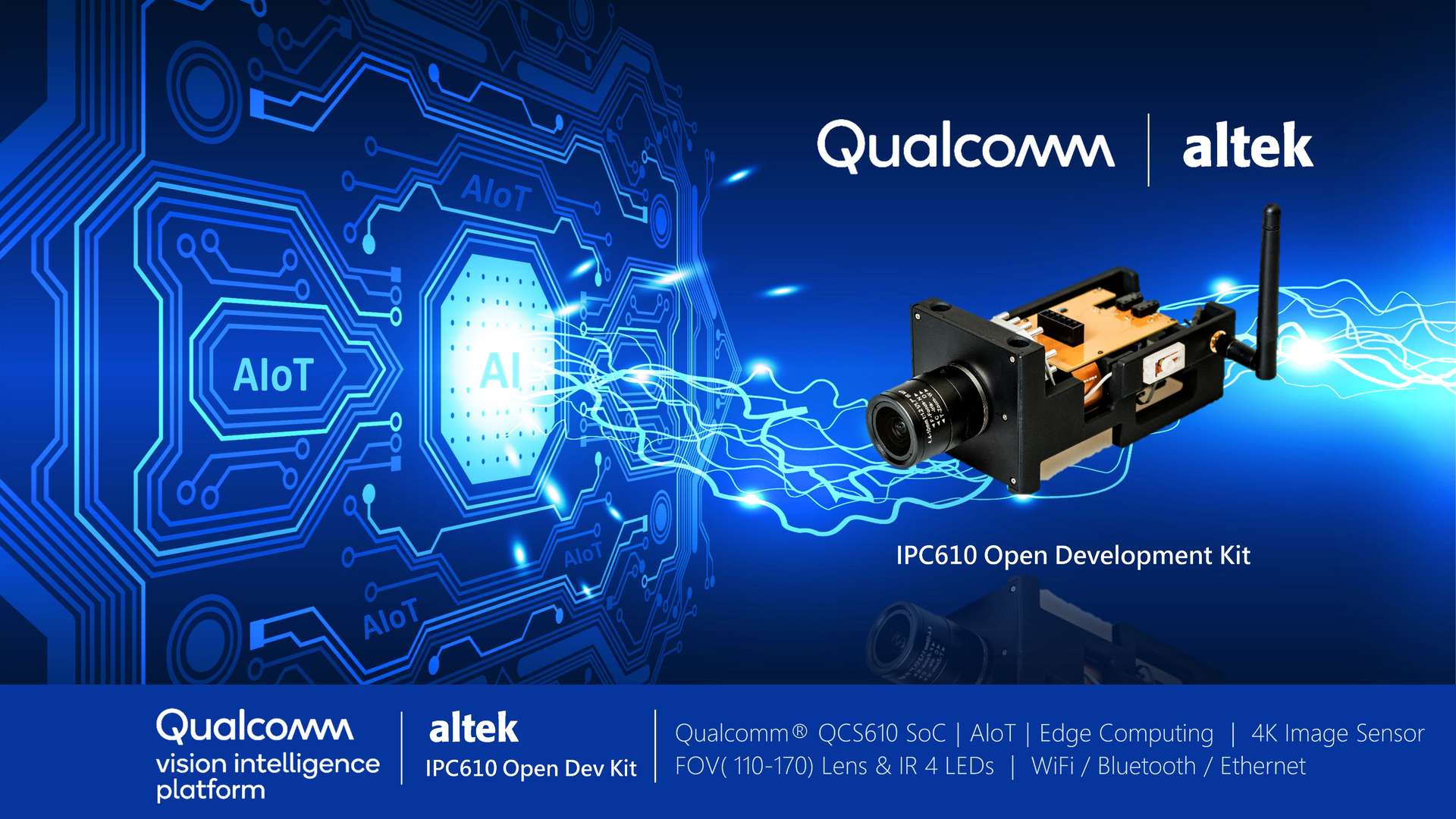 Altek & Qualcomm| 4K smart visual solutions for AIoT | IPC610 Open Development Kit
In the 5G, Altek (3059.TW) has become an important AIoT ecosystem partner of Qualcomm, a leading 5G manufacturer in the world, based on the QCS610 SoC system-on-chip "IPC610 Open Development Kit" will help to quickly enter the AIoT ecosystem and expand the market. Because 5G has the three characteristics of "high speed", "low latency" and "wide connection", Qualcomm created a "Vision Intelligence Platform" for AIoT, equipped with QCS610 SoC developed for AIoT chip, high quality 4K visual image processing capability provided by Altek "IPC610 Open Development Kit"and powerful edge computing capability provided by machine learning, to realize industrial and consumer-level AIoT visual solutions, which can be used in smart retail , smart home, WFH and other diverse scenarios. Altek can also design, develop and manufacture customized products based on "IPC610 Open Development Kit. And is expected to launch a Open Development Kit based on Qualcomm QCS410 in the fourth quarter of this year.
"We have a long history of working with Qualcomm Technologies. Starting from the launch of the Qualcomm® Vision Intelligence Platform, Qualcomm Technologies, Inc.'s first family of system-on-chips (SoCs) purpose-built for the Internet of Things (IoT), we developed a series of vision edge AI products including AI edge camera and AI edge box targeting for AI inference on the edge, based on Qualcomm Technologies' SoCs. It creates new experiences in different verticals like smart home, smart retails, smart cities and smart factories with quick detection response and absolute data privacy.
This year, we are launching a new series of vision edge AI products by using the new Qualcomm QCS610 SoC. Thanks to Qualcomm Technologies, the new Qualcomm QCS610 camera reference design hardware development kit (HDK) will help demonstrate advancement in all performance from computation power, AI model coverage to connectivity." said Alex Hsia, Founder & CEO, Altek.
"Building on Qualcomm Technologies' innovations, Altek is well positioned to help accelerate the availability and proliferation of advanced camera-based devices with powerful AI and machine learning features," said Tim Yates, senior director, product management, Qualcomm Technologies, Inc. "We are excited to be working with Altek and with the introduction of the Qualcomm QCS610 system-on-chips (SoCs), we are committed to help innovators access the latest camera technologies and capabilities for the intelligent edge."
Nowadays, the demand of supporting of 4K resolution in Surveillance camera is keep increasing but the request of upgrading the existing Full HD surveillance camera system to support AI functions is also huge. Qualcomm new QCS410 which having same computation power of AI inference as QCS610 and optimized image processing function for full HD video is best fitting to address this market in terms of the performance and cost. Altek is continuing the cooperation with Qualcomm to develop this product.
more:
https://store.altek.com.tw/qualcomm/
About Altek
Established in 1996, Altek has engaged in imaging field for more than 25 years, Core technology of Altek is vision technology, in house vision chip and algorithm which can be integrated completely to provide one stop Vision AI solution from hardware manufacturing. Our fields of application span to IoT, smart automotive, medical imaging, 3D sensing and AI chips technology. For more information, please visit :
http://www.altek.com.tw/en-global/home
Media Relations Contact
:
Nicole Chen +886-2-87516620